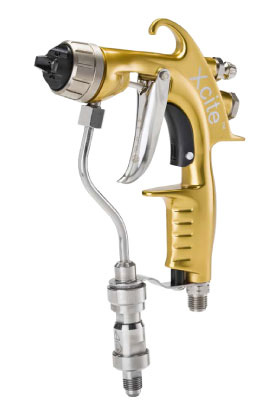 new Xcite™Airmix® gun
New Sensations...

Benefiting of KREMLIN REXSON know-how and field experience since 1925, the new Xcite™ gun becomes an extension of the operator's hand to bring him comfort and well being. Its ergonomy (design, ultra-light trigger, swivel fitting) reduces operator fatigue, increases productivity and prevents any RSI ( Repetitive Strain Injury).

…for new Performances

New Xcite™ gun uses the highest quality components for long lasting reliable performances. Xcite™ last generation aircap brings unsurpassed finish quality with a 86% transfer efficiency.

The operator will find the new aircap design gives significant improvements to fan pattern adjustment while using minimum atomization air and pressure. This feature significantly improves spray performance since the operator can spray into recessed or difficult to reach areas while still maintaining a perfect finish with minimal overspray.

The new Xcite™Airmix® gun is the latest generation of the Airmix® range created by KREMLIN REXSON in 1975. Airmix® technology is recognized worldwide in industrial markets (wood, metal, aeronautics, green energy…) , thanks to the performance offered in terms of environmental protection and productivity.
https://www.sames-kremlin.com/france/en/product-xcite-airmix-manual-spray-gun.html